James Camerons - Expedition Bismarck --
The adventure begins
On May 18, 2002, Walter Weintz, Karl Kuhn and I arrived in Kiel to help with the final preparations for the expedition on the Russian research vessel Akademik Mstislav Keldysh which carries two small submersibles for deep sea exploration. On May 22, after the equipment was safely stored on the ship, the Keldysh set course for the Atlantic ocean. On May 24, the 61st anniversary of the sinking of the HMS Hood by the Bismarck, Walter Weitz und Karl Kuhn, the survivors of Bismarck's last voyage, consigned flowers to the sea to honor the lost sailors.
On route to the Bismarck, James Cameron and I spent most of the time studying the available video footage from previous expeditions to determine the best way to access the interior of the Bismarck. This task and life in general became increasingly difficult due to the worsening weather conditions.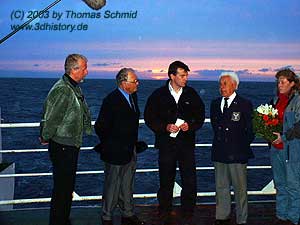 The ceremony on May 24.
F .l.: J. Cameron, K. Kuhn, G. Johnston, W. Weintz, L. Johnston.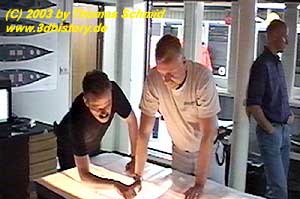 Studing the plansets.
F .l.: T. Schmid, J. Cameron, Dr. M. Weiß