Questions and Answers about German Warship drawings:
Q: What plans or drawings have you used to create your Bismarck 3D models?
A: To built Bismarck we used the most excellent 1/100 drawings from Hans Gally a German draftsman who is working on these drawings since the early 80's. Hans has constantly updated his drawings by incorporating the newest findings in order to make them the most detailed and up-to-date drawings available on the market.
Q: Were can I get Hans Gallys drawings and at what price?
A: It depends on were you come from:
– If you are located in Germany the price of the printed set of drawings (4 sheets) is 94 EUR shipping and packaging inside Germany included.  The printed plans will be delivered directly by Hans Gally.
Note: There is no digital download for Germany available!
– If you are located outside of Germany we are providing a 600dpi digital download of the 1/100 drawings of Hans Gally's work at a price of 80 EUR.  The download includes a 300dpi version for your convenience! There is no printed version for foreign costumers available!
– The digital and printed versions can be ordered directly from this website! Again, printed versions are only available if you provide a German delivery address!
Please follow this link to obtain any of the plan sets and to get an impression of the magnificent work of Hans Gally!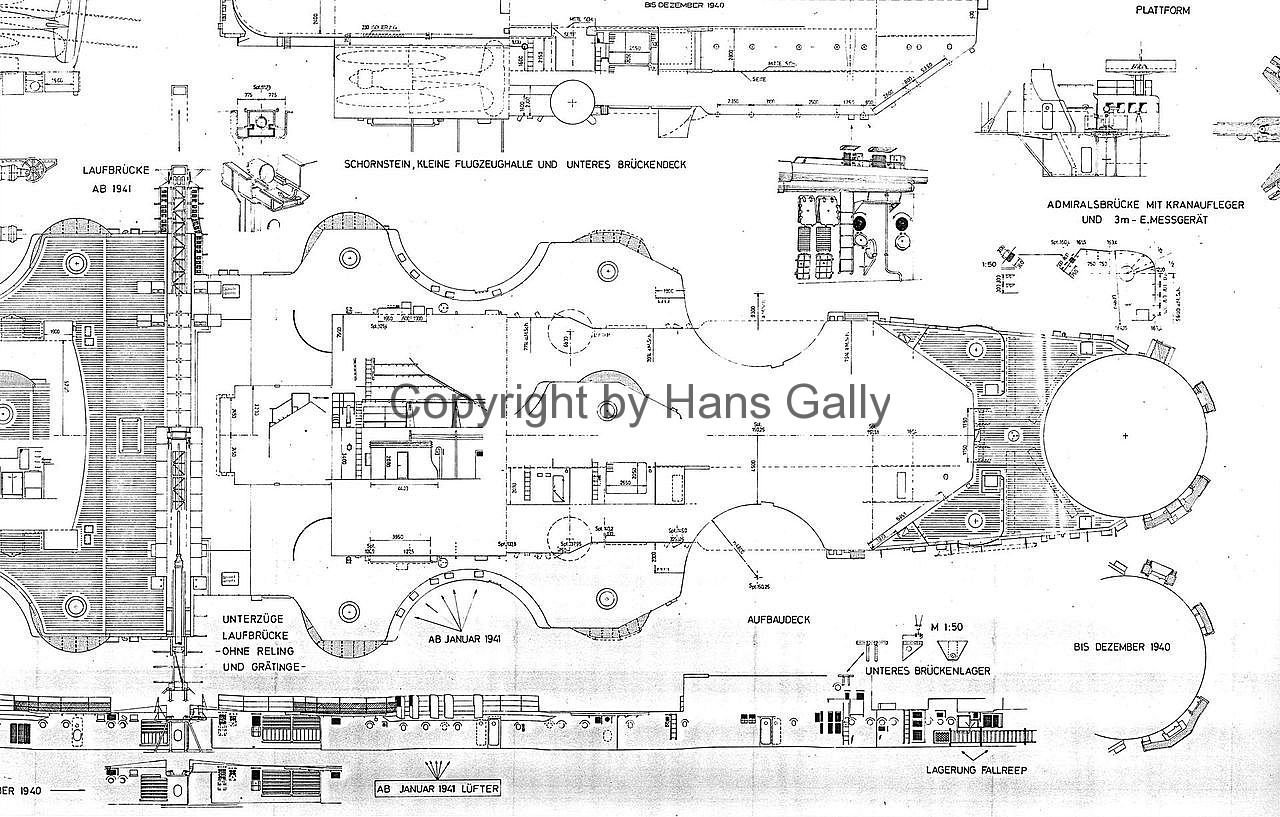 Q: Can I preview the drawings  before I order them?
A: Of course, follow this link above to get an impression of Hans magnificent work!
Q: Are there other drawings of Hans Gally available?
A: Yes, the German battleship Tirpitz and the pocket battleship Admiral Scheer are available too. The aircraft carrier Graf Zeppelin is currently under construction. All available Hans Gally drawings can be soon ordered over this website.
Q: Are there other drawings of Bismarck and Tirpitz available on the market and how is the quality and price?
A: Yes they are:
– A very good investment is the AJ-Press book series about Bismarck and Tirpitz if you can still find them. I guess ebay will do the job. Below are the links to the original webpage but the books maybe out of print!
This polish book series compromises 5 books (EOW 15 -19) which are containing many photos, some original drawings and a 1/400 plan set for Bismarck and Tirpitz. The drawings are not as accurate and detailed as the drawings mentioned above but because of the tremendous amount of well choosen photographs, original drawings and some excellent 3D renderings in the later books these books are an absolute must for everybody interested in these ships!
– There is or was a plan set available  from Harrhaus.de. This set of drawings are very similar to the drawings of Hans Gally but do not include all the new findings obtained during the 2001 and later dives to the wreck of the battleship Bismarck. An link to the drawings can be found here (Warning! This website uses a potential unsafe Java app. Use at you own risk!!!) : http://www.harhaus.de/hmplan00fr.htm
We do not recommend these drawings because they are very similar to the original but more expensive (172 EUR).
– Anatomy of the Ship -The Battleship Bismarck –
One of the latest additions to the famous AOAS series by Conway Maritime Press is the book about Bismarck. All I can say about this book is:  The drawings in this book are inaccurate, incomplete, sometimes out of scale and some areas of the ship are simply not discussed etc.. Stay away!
But if you can't resist: Here is a link!


Please feel free to add any comment this page!